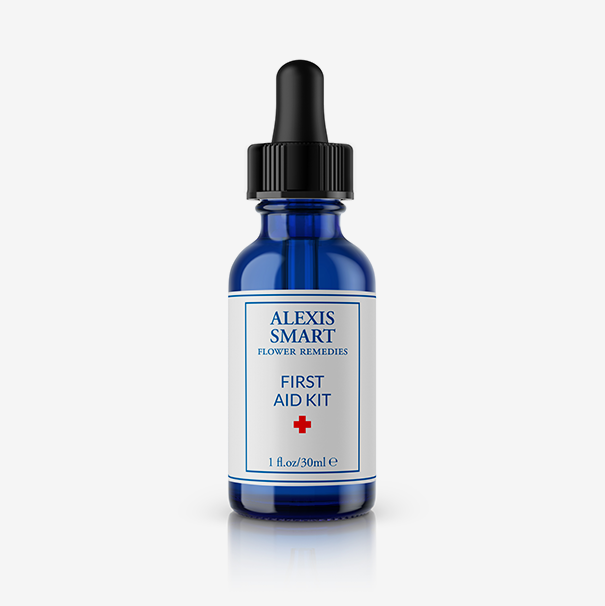 First Aid Kit
for urgent care
OVERVIEW
Dr. Bach's original "Rescue" formula with added Crab Apple

Fast-acting relief for high-stress situations (trauma, remove loss of loved one, emotional upsets, accidents, etc.)

Works for traumatized Animals (Add four drops to small water bowl)
BENEFITS
Works instantly to neutralize trauma and restore calm

Minimizes anxiety before public speaking, flying, dentist visits, etc.

Travel remedy (helps adjust to time zones, protect from external influences)

Useful for hospital visits, both for patient and their family members

A must have for the medicine chest, purse or glove compartment
*Note: If anxiety is chronic, please use Peaceful Worrier or Safe and Sound
DIRECTIONS
4 drops, 4 times a day under the tongue.
1 bottle is a 1 month supply if taken as directed.
*May be taken more frequently as needed.
Regular or Alcohol Free?:
Calm & Relaxed
"I took it today before a lengthy dental procedure and I found myself incredibly calm and relaxed. It was a completely different experience from the panic I experienced two weeks ago during the same exact procedure."
–Caroline, Richmond, Virginia
A Staple
"It has now become a staple in our medicine cabinet. When I feel stressed, or a little sick, I take First Aid and don't seem to fall sick. I also give it to my kids when they have bumps and bruises, or tummy aches."
— Karyl, Philippines
Clear & Focused
"I keep First Aid Kit with me pretty much wherever I go, and it has been an absolute lifesaver when I start to feel anxious or upset. It helps clear the anxious fog in my brain and allows me to calm down and focus on one step at a time."
— Josie N, Iowa City, Iowa
A Lifesaver
"First Aid has always been a life saver (began with Bach's rescue remedy and yours has been more effective by far). I love your wealth of information and your guidance is much appreciated."
— Erin S.
MIXING FORMULAS
Please avoid taking more than one formula at a time, as it lessens the effectiveness. (First Aid Kit is the exception and can be taken at any time.)
INGREDIENTS
Regular: Handcrafted with organic, biodynamic brandy, spring water and a proprietary blend of organic, wild-harvested *Bach flower essences.
Alcohol-free: Organic vegetable glycerine, spring water and a proprietary blend of organic, wild-harvested *Bach flower essences.
ALCOHOL FREE OPTION
Although we use organic brandy as a preservative, the dosage is so small (4 drops), it's effect is not significant. If you prefer alcohol free, please check the Alcohol Free box after you ADD TO CART and allow an additional week for delivery.
CAN I DRINK COFFEE OR ALCOHOL WHILE TAKING FLOWER REMEDIES?
Yes! It's completely fine to drink coffee and alcohol when you are using flower remedies.
IS IT STRONGER TO TAKE THE WHOLE BOTTLE AT ONCE?
The standard dose is four drops, four times a day, under the tongue. Regular use of the flower remedies builds the strength of their action. Therefore, potency is increased not by taking more drops at one time, but by using them on a frequent, consistent basis. The remedies should be taken four times daily, although this may need to be increased in acute situations to once every hour, or even more often. (First Aid Kit may be used every ten minutes).
I ONLY HAVE SOME OF THE SYMPTOMS LISTED. WILL THIS WORK FOR ME?
Pick the formula that most relates to your feelings and emotional state overall, at the moment. If some of the symptoms listed do not pertain to you, the formula will still be effective in treating the symptoms you do have. An inappropriate remedy will not hurt or cause adverse reaction.
HOW LONG DOES THE REMEDY TAKE TO WORK?
The remedies can work immediately in certain situations (First Aid Kit, Moon River and Wholehearted are fast-acting), but for long-term issues it will take three weeks to one month to see changes. The effects of flower remedies are cumulative. Remedies must be taken as directed to feel the benefits.
WHAT ABOUT ALLERGIES TO POLLENS/TREES?
Flower remedies are safe for allergy sufferers. Because they are so dilute, they are considered vibrational medicine, containing only trace amounts of the original plant material.