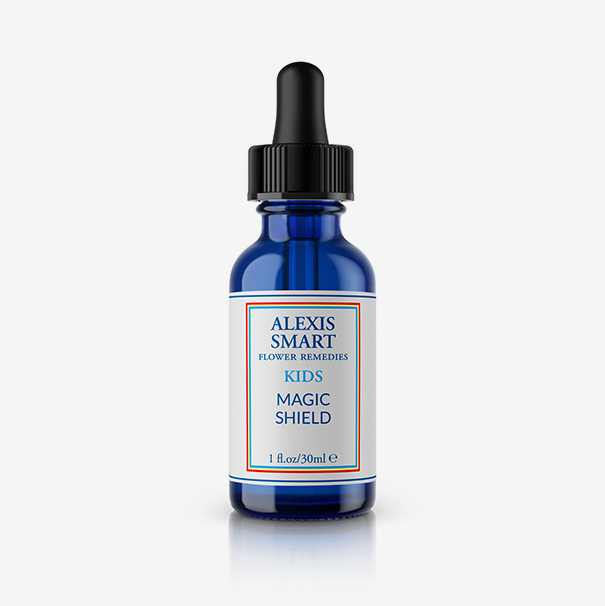 Kids Magic Shield
for courage
IF YOU FEEL
Fears (the dark, bullies, going to school, strangers, etc.)

Shyness and nervousness

Separation anxiety

Timidity

Nightmares
HELPS WITH
Brave and self confident

Outgoing

Strong sense of self

At home in the world
DIRECTIONS
4 drops, 4 times a day under the tongue.
1 bottle is a 1 month supply if taken as directed.
*May be taken more frequently as needed.
*Alcohol-free in a pleasant tasting vegetable glycerine base. Safe for infants.
Restful Sleep
"After a few weeks of taking it, my husband was finally able to convince him that sleeping with the lights off. His sleep is more restful and he has overall been much more peaceful and rested."
— Monica V., Alisa Viejo, California
Nightly Ritual
"My kids love the Magic Shield. They are both older, 14 and 10, but my youngest has had a problem with night terrors. He has not had one night terror since adding Magic Shield in to the nightly ritual here."
— Erin, Belton, Texas
MIXING FORMULAS
Please avoid taking more than one formula at a time, as it lessens the effectiveness. (First Aid Kit is the exception and can be taken at any time.)
INGREDIENTS
Organic vegetable glycerine, spring water, proprietary blend of *Bach flower essences
*Bach flower essences refer to the healing system created by Dr. Bach and not to a specific manufacturer
I ONLY HAVE SOME OF THE SYMPTOMS LISTED. WILL THIS WORK FOR ME?
Pick the formula that most relates to your feelings and emotional state overall, at the moment. If some of the symptoms listed do not pertain to you, the formula will still be effective in treating the symptoms you do have. An inappropriate remedy will not hurt or cause adverse reaction.
HOW LONG DOES THE REMEDY TAKE TO WORK?
The remedies can work immediately in certain situations (First Aid Kit, Moon River and Wholehearted are fast-acting), but for long-term issues it will take three weeks to one month to see changes. The effects of flower remedies are cumulative. Remedies must be taken as directed to feel the benefits.
WHAT ABOUT ALLERGIES TO POLLENS/TREES?
Flower remedies are safe for allergy sufferers. Because they are so dilute, they are considered vibrational medicine, containing only trace amounts of the original plant material.